Katherine Garbera stopped by the Tule blog to discuss the second book in the Rossis of Whiskey River series, Smooth Talking Texan!
Where did you get the inspiration for Smooth Talking Texan?
KG: I think I fell in love with rodeos and cowboys when I was a little girl and Ms. Silverspurs in Fort Pierce, Florida! That was just reinforced when I saw Luke Perry in that movie about the bull rider Lane Frost.  So when I was thinking about my Rossi brothers I knew one of them had to be a rodeo cowboy and thought I'd make him a clown because they take risks but seem like they don't. What a fun dichotomy to play with for my hero!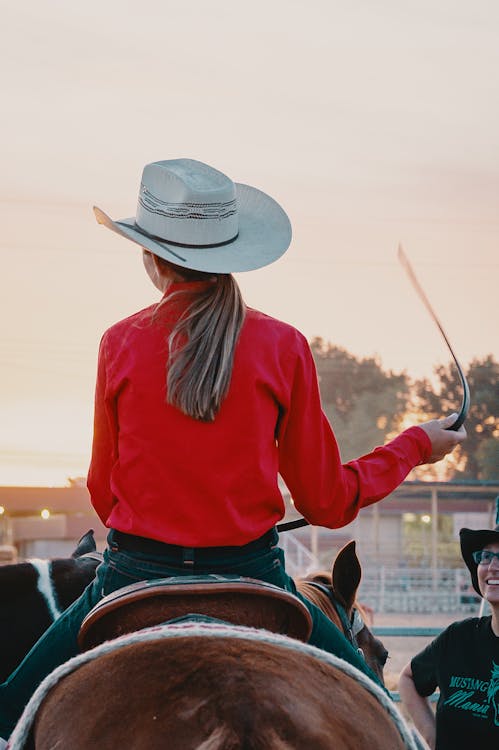 Can you share a fun fact about your hero and heroine, Colby and Olivier, to help readers get to know them better?
KG: Colby loves Olivier. She wishes she didn't but she does.  She loves being a barrel racer but frankly she's been ready to retire and settle down for a few years. She's stayed with the rodeo to stay close to Ollie.

Olivier is content with the status quo he doesn't like pressure or change but his mama is out of control with the matchmaking and Colby is a good friend, he asks her to be his fake fiancée because he thinks it will be an easy solution until he realizes Colby is hot and he is starting to fall for her.
This is a fun fake relationship romance. What drew you to this trope? What's your favorite trope to write?
KG: I really love this trope because it feels like something that is easy to fall into. It's an easy solution to a problem in most situations. I've written a lot of books with this trope back in the day when mistresses were a popular theme I did a fake mistress book.  I love that the hero and heroine are forced to be together and fake liking each other and then when it starts to become real I love to ratchet up the tension. So good!

My favorite trope…I don't think I can pick one. I love enemies to lovers, friends to lovers, the bad boy, fake relationships, office romances.  The only one that's not my favorite is the reunion romance.  But I have done a couple of them.
What was your favorite scene to write and why?
KG: Not to be cheesy but it's usually the last scene because that is the one that has the pay-off for all the torture I put the characters through! But I also really love the opening in Colby's scene.  She's talking herself into cutting Olivier out of her life and he walks in and says hey, girl, want to be my fake fiancée and she's like oh, hell, no, but yes!

Here's a snippet:
Colby Tucker had been in love with Ollie Rossi since the first day he'd pulled his battered pickup into the space next to hers and leaned out the window to introduce himself.
He had a square jaw that was more often than not covered in stubble, thick brownish hair that curled when he let it go too long without a haircut, which to be honest, he almost always did. He wore faded, worn blue jeans that hugged the curve of his butt and his long legs. His boots were quality but well used, and he always wore a straw cowboy hat on his head. He usually wore faded jeans and a T-shirt with one of his favorite bands—Coldplay or ZZ Top—and maybe it was her overactive libido, but those tees seemed to hug his muscled biceps and pecs like a second skin. He looked like her version of a cowboy wet dream whenever he walked toward her, and it was all she could do to pretend to be blasé.
He'd friend-zoned her after that first meeting and seeing how quickly the buckle bunnies rotated through his trailer weekend after weekend when they were on the road with the rodeo, she knew she should be happy about it. But she'd be lying if she said she was. She'd had more than her fair share of hot dreams about Ollie.
His real name was Olivier. Sort of hoity for a rodeo cowboy and she'd never seen him as anything other than Ollie. Shep barked and she glanced at her husky. He nudged his empty water bowl toward her. She nodded. That's right she'd been filling up his food and water bowls when she'd gotten distracted by Ollie pulling in next to her in the large field that the rodeo participants used as a campground.
She filled Shep's bowls, petting him before she put them down and then turned away from the window. She'd decided that this was the year she got over Ollie Rossi. To be fair, it had been one hell of a lot easier not to think about him when she'd been home in Georgetown over the winter months when the rodeo wasn't in session but here it was March 1st and she realized she hadn't made one damned inch of progress on getting over that man.
She heard the rap on her door, knew it was him. He always liked to have a catch-up after they'd been apart for a while. Truth was she loved it too. But honestly, she wished she could just see him as a friend the way he saw her. It would make her life so much easier. She needed to get over him and move on.
She opened the door with a smile and almost caught her breath at how handsome he was. His bright blue eyes in that olive tanned face with the thick curls on the top of his brown-black hair. His firm mouth lifted in an answering smile.
"Hey, Colby-girl, missed ya," he said, stepping into her trailer and giving her a hug.
Sap that she was, she closed her eyes and breathed in the scent of his aftershave, something outdoorsy and sort of woodsy that she had never smelled on anyone else. His arms dropped and she stepped back still tingling form the body-to-body contact. Shep stopped eating to come over and greet one of his favorite people.
This.
Even her dog was hung up on Ollie. She had to get herself sorted. She'd even let her mom set her up when she'd been home, hoping that maybe she would meet someone new who would distract her. But the truth was every guy she'd met didn't measure up to Ollie. Her never-boyfriend.
What are you currently reading?
KG: I'm currently reading The Viscount Who Loved Me by Julia Quinn because Bridgerton! And I also have State of the Onion by Julie Hyzy on my nightstand so I'm alternating between the two books.  I was head down on a deadline last week so reading the mystery book was my go to. But now that the book is turned in I'm going to finish the Julia Quinn.
About the Author
Katherine Garbera is the USA Today bestseller author of more than 115 books.  She is celebrating her 25th year as a published author in 2022 and is still thrilled to bring stories of happily ever after to her readers.  Her books are known for their emotional impact and sizzling sensuality.  She lives in the midlands of the UK (aka not London) with her husband and sweet miniature dachshund.