Melissa McClone stopped by the Tule blog to discuss the third book in the Silver Falls series, A Cup of Autumn!
Where did you get the inspiration for A Cup of Autumn?
A Cup of Autumn is book 3 in my Silver Falls series. When I wrote the first one, the heroine had three brothers so I had in my mind they would each take place in a different season. I also was trying to decide which of her friends would match with which brother. The coffee shop owner, Raine, and the professor, Keaton, seemed like it would be a fun story. Most of the stories have some event happening in them, so I tried to come up with something fall-related. I live in a small town and they have a trick-or-treating event at businesses in town so I decided to use that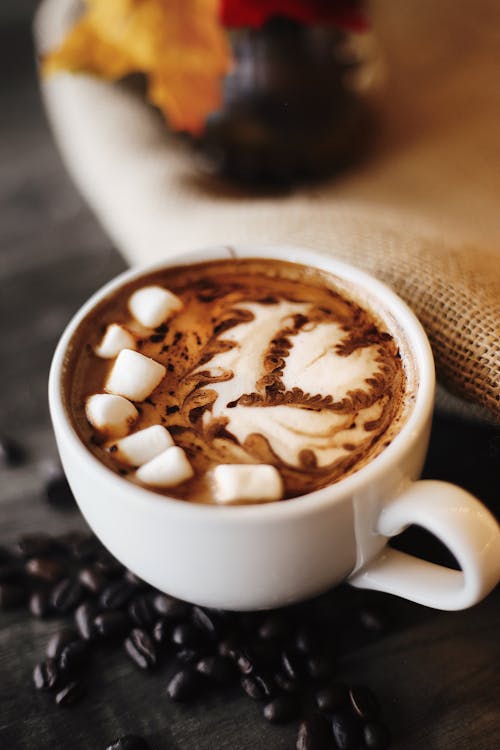 If you visited Raine's coffee shop, what would you order?
I don't drink coffee, so I would get one of her hot chocolates. They are loaded with whipped cream and chocolate shavings. I'm sure I could get her to add a little chocolate sauce and a candy cane in it, too!
If you could spend the day with Keaton or Raine, who would you choose and what would you do?
I would spend the day with Raine. I'd ask her to teach me how to make all her wonderful coffee drinks and how to do the latte art because my husband is a coffee lover. I'd love to surprise him with something special. He was my test tester for a recipe of hers I made up for a Pumpkin Spice Latte.
What was your favorite scene to write and why?
I loved when Keaton offers to help Raine organize the Boo Bash. This is what will bring them together (besides his sending resumes and writing in the coffee shop each day). It was just fun because he's a bit out of his element trying not to be and she's a bit in shock over the offer since she's desperate for help. It was just fun to write and showed me these two opposites could have an HEA after a rather rocking start when he first arrives in town.
Here's a snippet:
"Hey. I didn't see you come in." Raine had been focused on making sure Heather left. "Sorry for the wait."
"Not a problem. Quite a morning you've had."
"How much did you see?"
"Enough. You okay?" Keaton asked, his tone concerned.
"Yes." But her staffing issues might be behind her. A warm, fuzzy feeling, as if she'd sipped a hot cocoa drizzled with hot fudge sauce and candy cane sprinkles, flowed through her. "An Americano this morning?"
"I want to try another pumpkin spice drink. Something different from the lattes yesterday."
"There's plenty to choose from on the menu."
"Surprise me again."
"Living dangerously?"
"It appears so."
She ran through the pumpkin spice drinks. "I know exactly what you need."
"And so do I." His face reddened. "I mean what you need."
Her heart thudded.
Whoa.
That was a strange reaction. Keaton's words sounded a little flirty. But he wouldn't, would he?
His smile wavered. "I want to offer my services."
The words hung in the air between them.
Raine thought she'd heard him correctly but maybe not. "Your what?"
"My services."
O-kay. Except it wasn't. "You lost me. Not surprising given you're a professor and I'm me, but what services?"
Because after yesterday, she couldn't imagine him working for her as a barista. Strike that. She could imagine it. He couldn't. Wouldn't. Of that, she was one hundred percent certain.
"At dinner with my family the Boo Bash came up," he clarified.
"You mean, the thorn in my side."
"How would you like help pulling out that thorn?"
She was missing something. It wouldn't be the first time given how long she'd missed the signs of Emmett's unhappiness in Silver Falls and with her. "Huh?"
"I want to help you organize the Boo Bash."
The words rushed out as if he were nervous, so much that Boo Bash sounded like one word. The result was adorable.
He adjusted his glasses. "That is, if you want help organizing it."
"Are you kidding? They gave me a bin of stuff, and I haven't opened it. The event is four weeks away, but I have no idea where to start. No time…"
It was her turn for the words to gush out one on top of another. She didn't care. An unlikely hero was stepping in, and she couldn't be more grateful.
"I'd love your help. Like love it so much you're my new best friend, and I want to name a tea blend or coffee drink after you."
He laughed. "There's no need for the latter, but a person can never have too many friends."
She nodded, back and forth as if her head had turned into a rocking chair. "Like I said we have some time…"
"I'm the planning type so what if we get started sooner rather than later?"
Raine needed the help. Somehow, she would have to make time to work on the Boo Bash. "Sure, when?"
"Today."
She swallowed.
He laughed. "Don't look so worried. The Boo Bash doesn't have to be built in a day, but it'll be October soon."
"I didn't realize I looked worried."
"When your eyebrows draw together, little lines form above your nose. That suggests worrying. Or at least contemplation. And not in a positive way."
"No one's mentioned that before." She touched the spot to double-check. "I was worrying."
"Stop. You're no longer on your own."
With each of his words, her stress lessened.
"I'm working here this morning," Keaton continued. "When things slow down, we can discuss the first steps. How does that sound?"
Like she wanted to drop to her knee and propose on the spot.
Okay, not really, they were too different, but a part of her was in shock. The other part would be eternally grateful to him. "Sure. Sounds great. Thanks. Your drinks are on the house."
What are you currently reading?
I'm currently reading A Sprinkle of Spring, Book 4 in the series, that I just finished writing a few days ago, and this book. I'm doing a workshop on revisions and using examples from both for it.
For a chance to win Melissa's fun giveaway including a $10 Amazon.com gift card, pumpkin spice tea bags, pumpkin spice ground coffee, stickers, bookmarks, recipe cards, and more, comment below what your favorite thing about autumn is!
GIVEAWAY IS CLOSED – CONGRATULATIONS TO JESSICA A!
About the Author
With a degree in mechanical engineering from Stanford University, Melissa McClone worked for a major airline where she traveled the globe and met her husband. But analyzing jet engine performance couldn't compete with her love of writing happily ever afters. She's now a USA Today Bestselling author and has also been nominated for Romance Writers of America's RITA® award. Melissa lives in the Pacific Northwest with her husband, three children, a spoiled Norwegian Elkhound, and cats who think they rule the house. They do!