24 of our fabulous Tule authors are coming together for our first ever 24 Days of Cookies party in the Tule Book Club! From December 1-24, an author will be stopping by everyday to share their favorite cookie recipe, some holiday memories, and a fun giveaway. Check back here for all the delicious recipes, and let us know if you make any!
1. Lemon Sugar Cookies from Denise N. Wheatley
Ingredients:
* 1 cup of unsalted butter, room temperature
* 2 cups of sugar
* 2 eggs
* 1 teaspoon of pure vanilla extract
* 1 1/2 teaspoons of lemon extract
* 1 tablespoon of lemon zest
* 3 cups of flour
* 1 1/4 teaspoon of baking powder
* 1/4 teaspoon of baking soda
* 1/4 teaspoon of salt
* Sparkling red and green sugar
Instructions:
1. Preheat oven to 350 degrees.
2. In a large bowl, cream butter and sugar for 4 minutes until light and fluffy. Add eggs, vanilla, lemon extract, and lemon zest. Stir to combine.
3. Stir in flour, baking powder, baking soda, and salt. Mix just until combined.
4. Chill the dough in the refrigerator for at least an hour
5. Roll the dough to 1/4 inch thick, cut with holiday-shaped cookie cutters
6. Place parchment paper on a cookie sheet, then place cookies on top
7. Bake for 9-11 minutes or until edges are lightly brown
While the cookies are baking, prep the frosting. Below are the ingredients and instructions:
* 2 cups of confectionery sugar
* 1/2 stick of salted butter, room temperature
* 2 teaspoons of vanilla extract
* 2 tablespoons of milk
1. Mix the ingredients together with a beater until light and fluffy
2. Ready to use!
Once your cookies have cooled, ice them, sprinkle the sugar on top, and enjoy!
2. Coconut Cranberry Macaroons from Christi Barth
These are amazing because; 1) practically guilt-free – no butter or oil, 2) only 7 ingredients and super fast & easy 3) it makes about 14 cookies, which is just right for perhaps a smaller, quarantined household, and 4) DELICIOUS!!!!! I'm thanking Food Network for this ancient recipe.
Ingredients:
2/3 cup sugar
2 large egg whites, lightly beaten
1/2 cup dried cranberries, finely chopped
Finely grated zest of 1 orange
2 teaspoons pure vanilla extract
1/2 teaspoon fine salt
3 cups finely shredded unsweetened coconut
Directions:
Preheat oven to 350 degrees F. Line 2 baking sheets with parchment.
Whisk the sugar, egg whites, cranberry, orange zest, vanilla and salt in a large bowl.
Toss the coconut with the egg mixture until completely coated.
Moisten your finger tips with water. Form about 1 heaping tablespoon of the batter into pointed mounds or pyramids on the prepared pans, spacing them about 1-inch apart. (squish 'em together hard!)
Bake until the edges are golden brown and the entire macaroon is nicely toasted and dry, 16 to 20 minutes. Transfer to a rack to cool. Serve.
Store macaroons in a tightly sealed container for up to a week.
3. Peanut Butter Ritz Cracker Cookies from Kaylie Newell
Ingredients:
Ritz crackers
Peanut butter
Vanilla and chocolate almond bark
They are soooo easy, you guys. But a little time intensive, and you should have plenty of counter space to let them harden.
Directions:
First, make a few dozen Ritz cracker/peanut butter "sandwiches". Then, melt the almond bark and coat the sandwiches generously. Let them dry, and enjoy!
They're so good. I was first introduced to them in college by my friend who took me home with her for Thanksgiving. They've been one of my favorite holiday cookies ever since. 
4. Italian Christmas Cookies from Jeannie Moon
I love these cookies. They have a cake-like texture, and are wonderful with a cup of tea or coffee. They are exactly the kind of cookies Lina would make at her cafe in Compass Cove. Next year, I'm writing a Compass Cove Christmas story, so I'll be sure to incorporate lots of yummy treats for you to try out. These are so pretty when they're done, but they aren't complicated and are great fun to make with kids. You can twirl them into all kinds of shapes.
Ingredients:
4 eggs
1 cup sugar
1⁄2 cup butter
2 teaspoons vanilla
3 1⁄2 cups flour
4 teaspoons baking powder
2 cups sifted confectioners' sugar
2 teaspoons vanilla
6 teaspoons water
Directions:
Preheat the oven to 375°
Sift the flour and baking powder together into a bowl.
In a large mixing bowl cream butter and sugar. Beat in eggs and add vanilla, then pour the dry ingredients into the wet and mix. I use a stand mixer—add the dry ingredients a half cup at a time.
Turn out the dough on a floured board or silicon baking mat. Gently knead for a minute or two, adding flour as needed to keep dough from sticking to hands. Pinch off dough, roll in your hands to form a log and then twirl into shape. Place on greased cookie sheets.
Bake for 10 minutes.
Combine the last 3 ingredients to make a creamy icing:
Dip cookies into icing. Place on wire rack with wax paper on counter to collect the dripping icing, then add sprinkles.
(Yes, the photo is a batch of cookies I baked last year.)
5. Swedish Cookies from Mallory Kane
My husband's mom made cookies. Today I'm sharing with you her famous Swedish cookies. These are her three sons' favorite of all the cookies she made at Christmas time. And she made a bunch of cookies! The cookies contain cardamom and almond paste with a simple icing. They are unique and delicious.Here's the recipe.
Ingredients:
9 ounces all-purpose flour (about 2 cups)
1 cup powdered sugar
½ teaspoon baking soda
½ teaspoon ground cardamom
¼ teaspoon salt
¼ cup almond paste, crumbled
1 tablespoon butter, chilled and cut into small pieces
⅓ cup fresh orange juice
3 tablespoons canola oil
Icing:
2 cups powdered sugar
3 tablespoons 2% reduced-fat milk
Directions:
Step 1: Combine flour, 1 cup powdered sugar, baking soda, cardamom, and salt in a food processor until blended. Add crumbled almond paste and butter. Process until completely blended. Combine juice and oil. With processor on, slowly pour juice mixture through food chute and process until dough forms a stiff ball.
Step 2: Divide dough in half. Gently press each half of dough into a 4-inch square on heavy-duty plastic wrap. Cover with plastic wrap. Roll each ball, still covered, to a 1/4-inch thickness. Chill 1 hour. Alternatively, roll into two rolls approximately 1 inch thick and chill.
Step 3: Preheat oven to 375°.
Step 4: Working with 1 portion at a time, remove top sheet of plastic, turn over and remove remaining plastic wrap. Cut with a 2 1/2-inch star-shaped cookie cutter into 24 stars. Alternatively, slice into ¼ inch thick cookies. Place cookies 2 inches apart on baking sheets lined with parchment paper. Bake at 375° for 8 minutes or until verily lightly golden-brown. Cool on pan 5 minutes. Remove from pans. Cool on wire racks.
Step 5: For icing, combine 2 cups powdered sugar and milk, stirring with a whisk until smooth. Warm in microwave if too thick to spread. Spread about 1 teaspoon icing over each warm cookie; chill 1 hour.
These can be frozen, either as dough or as baked cookies.
6. No Fail Holiday Fudge from Robyn Neeley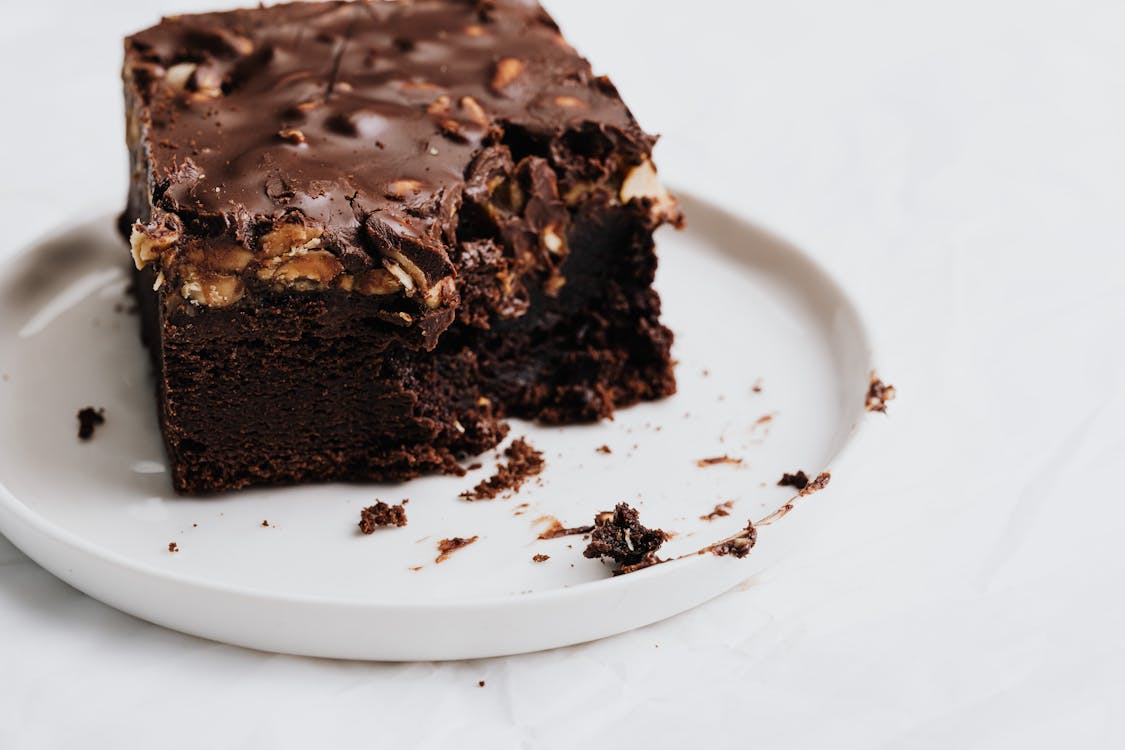 My mom makes this fudge every year, and it's amazing! Things in this recipe happen fast, so I find that preparing and measuring all the ingredients before getting started is key. Enjoy!
Ingredients:
2/3 Cup of Evaporated Milk
2 Cups of Sugar
1 Square Baking Chocolate
1 Stick of Butter
4 Hershey Bars (broken up)
1/2 Cup of chopped nuts (optional) and crushed nuts for topping (optional)
1 Teaspoon of Vanilla
Instructions:
Step 1: Pour that glass of wine or egg nog! If you're like me and like to have something to sip nearby, you'll want to get it ready now. Trust me on this tip.
Step 2: Butter an 8 x 8 pan
Step 3: Combine 2/3 cup of evaporated milk, 2 cups of sugar and 1 square of baking chocolate
Step 4: Bring it to a boil for three minutes. Stir, (Sip), Stir!
Step 5: After coming to a rapid boil, add 1 stick of butter. Keep on stirring!
Step 6: Take from heat and add 4 Hershey full size bars (Break a part in advance. Sure, go ahead and sneak a broken piece or two. I do!)
Step 7: Here you can add in ½ cup of chopped nuts if you like. Stir, Baby. Stir!
Step 8: Add 1 teaspoon of vanilla and give it a final stir.
Step 9: Pour into your 8×8 buttered pan and cool in refrigerator. Sprinkle crushed nuts on top (if you'd like)
Step 10: When cold cut into squares. While you wait for it to cool, finish your drink!
7. Hot Cocoa Cookies with Marshmallows from Charlene Sands
This is a new recipe to our family, but one we will continue to make. They are tasty and just right for a chilly winter's day.
Here's what you need:
· 1 and 1/4 cup all-purpose flour
· 1 and 1/4 cup dark chocolate cake mix
· 1/2 teaspoon baking soda
· 1 teaspoon salt
· 3/4 cup unsalted butter, softened
· 1/2 cup granulated sugar
· 1/2 cup packed light brown sugar
· 1 egg
· 1 and 1/2 teaspoons vanilla extract
· 1 cup semi-sweet chocolate chips (plus more for sprinkling over the tops of the warm cookies)
· 1 Cup of Mini Marshmallows or Marshmallow bits (we don't get the bits here, so I use the mini's.)
Here's what you do:
1. In a large bowl whisk together the flour, dark chocolate cake mix, baking soda, and salt.
2. In another large bowl (or the bowl of your stand mixer using the paddle attachment), cream the butter and sugars until fluffy. Add the vanilla and egg, and mix until just combined.
3. Dump in the flour/cake mix mixture all at once. Mix for a minute on medium, scrape down the sides and bottom, and continue mixing until just combined.
4. Add the semi-sweet chocolate chips and 1/2 cup of the mallow bits. Mix until they are evenly incorporated. Scrape down the bowl and gather up the dough. Wrap it tightly in plastic wrap and refrigerate for AT LEAST 2 HOURS! Overnight works as well.
5. Preheat the oven to 350°F and line your cookie sheets with parchment paper. Portion the dough out by the heaping tablespoonful and roll into an oval / egg shape (instead of a round ball) . Place the cookies so they are standing end over end ("tall"-ways), about 2″ apart. Top each with a few mallow bits.
6. Bake for 9-11 minutes.
7. When you take the cookies from the oven, top each warm cookie with a few additional chocolate chips and mallow bits and sprinkles if desired. Let cool for 4-5 minutes before removing to a rack to cool completely.
Makes about 3 dozen…Enjoy!
8. Holiday Biscotti from Katherine Garbera
(Click to see bigger image)
9. Sugar Cookies from Susan Sands
I'm thrilled to be here and share our family's tradition of classic roll and bake sugar cookies. Of course, we decorate them with all the trimmings! I grew up living next to my maternal grandparents, with the others only a mile away, so they were always a huge part of everyday life and all my holidays. Such special memories! I made these throughout my kids' childhoods every year on Christmas Eve for Santa and beyond. My daughter and I still make them together. The recipe is the original, torn from a magazine by my mom many years ago. (Yes, I know cookie is misspelled. LOL!) I follow it to the letter, besides the fact that I use real butter instead of shortening. Don't forget the milk!
10. Pepernodder from Julie Benson
Pepernodder is a Danish cookie that translates to pepper nuts. Traditionally, they're small cookies flavored with cinnamon, cardamom, cloves, ginger, and white pepper, but this recipe is more similar to a shortbread or butter cookie than the traditional recipe.
Ingredients:
1 C butter (softened)
1 ½ C white sugar
2 C heavy cream
5 ½ C – 6 C flour (Start with 5 ½ C. Add some or all of the last 1/2C if dough appears too sticky.)
½ tsp salt
1 tsp baking powder
2 tsp vanilla
Directions:
Mix softened butter and sugar until well combined. Add heavy or whip cream (in its liquid state, not whipped), salt, baking powder and vanilla. Mix until combined. Add flour until combined well. Chill dough overnight.
The next day (or even a few days later) preheat oven to 400 degrees. Roll out dough on a surface dusted with powdered sugar into slightly bigger than pencil size strips and cut into Scrabble tile size pieces. (Any age kiddo can do this using a toy knife from a children's baking set.) Place bite size pieces on a cookie sheet or baking stone. Bake for 12-15 minutes. Keep watch though, as Pepernodder can quickly turn from golden edges to burned.
Note: Since this recipe makes such a large amount, we store it in the fridge in an airtight container to roll out and bake in batches over the holidays.
11. The Venetian / Italian Rainbow Cookies from Patty Blount
Patty's YouTube tutorial: https://youtu.be/yZWbrk_CcxI
Ingredients:
4 large or medium eggs, separated
1 can of Solo Almond Filling (Note: Other recipes call for Almond Paste, but I have found the secret to success is using almond FILLING.)
1½ cups (3 sticks) of butter, softened in microwave
1 cup sugar
2 cups all purpose flour
¼ teaspoon salt
Green and red food coloring
1 jar of apricot or raspberry preserves
2 ounces of semi-sweet chocolate (either squares or chips) for glaze, or use preserves
1 ounce of cream or Crisco to soften the chocolate
Directions:
You'll need THREE pans! Don't attempt to try this recipe with just one pan.
1. Grease three 13 x 9 x 2 inch pans; line each pan with wax paper and then grease the paper. Hint: Let wax paper over-hang short edges of pan to use as 'handles' when removing baked layers. Set out three sheets of wax paper on heat-proof surface to receive baked layers when removed from pans.
2. Beat egg whites with electric mixer in small bowl until stiff peaks form. Set aside.
3. Break up almond filling with a fork. Add butter, sugar, egg yolks. Beat with electric mixer at high speed until fluffy. Beat in flour a little at a time and salt until blended.
4. Fold beaten egg whites into mixture with wire whip.
5. It helps to tint one batch at a time. Remove about a cup and a half of batter; spread evenly into one of prepared pans. This will be your yellow layer. Use a spoon to force batter to coat bottom of pan and reach the edges. If you find there just isn't enough, remove a scant spoonful at a time from the bowl and add to the pan until the pan is covered. Use another bowl to divide the remaining batter in half; tint one half green and LEAVE THE REMAINING HALF YELLOW UNTIL NEXT STEP. Spread the green batter in the second prepared pan. You may add a spoonful of untinted batter, mixing carefully in the pan, until the pan is completely covered. Finally, tint the remaining batter red; spread into last prepared pan.
6. Bake in moderate oven (350º) about 15 minutes until edges are lightly brown. Center should not be sticky or shiny. Note: layers will be very thin; less than a quarter inch.
7. Immediately upon removing pans from oven, invert each layer onto the waxed paper you laid out in Step 1. Peel off the baking liner paper carefully, trying not to tear layers. Cool completely.
8. Heat preserves; strain. Use the waxed paper to carefully lift the green layer onto a jelly roll pan or other flat pan that will fit into a refrigerator. Spread a thin layer of preserves onto green layer; spread to all edges. You may remove any remaining lumps, if desired.
Use the waxed paper to carefully lift, align and flip yellow layer on top of preserves-topped green layer. If you do not align edges properly, CAREFULLY try to slide layer into place without tearing. Spread another layer of preserves on top of the yellow layer; spread to all edges.
Use the waxed paper to carefully lift, align and flip the red layer on top of the yellow layer.
9. Cover tightly with plastic wrap; weight with large book (phone book or textbook) and refrigerate over night to encourage the layers to adhere.
10. Next day: Melt chocolate in microwave until smooth. Add cream or Crisco to keep the chocolate from re-hardening. Spread chocolate over top of assembled cake. Smooth to all edges. Let set in refrigerator, about 30 minutes. Optional: Top with ice cream sprinkles or nuts.
Trim the rough edges from cake and discard. Cut trimmed cake into 1 x 1 inch squares with a very sharp, non-serrated knife. (Serrated knives 'saw' the cake, grinding the fragile layers.) It helps to cut a length off the cake and flip it on its side to slice into squares so the chocolate layer is not ruined.
12. Italian Pizzelles from M.A. Guglielmo
As a jinn who's supposed to like haunting people more than shopping and great desserts, Zahara has to hide her love for sugary surprises from her (very scary) family. For this post, I used two different pizzelle recipes, one with chocolate and more sugar, and the second with less sweetness and more of a crunch. I think Zahara would go for the first option—but the second recipe reminded me more of my grandmother's plain pizzelles.
Chocolate Pizzelle
Ingredients:
3 eggs
1 cup of sugar
½ teaspoon instant espresso powder
1 tsp vanilla extract
½ teaspoon salt
¼ cup baking cocoa
2 tsp baking powder
1 and 2/3 cup all-purpose flour
1 stick of butter, melted
Instructions:
Beat the first five ingredients together (I used a stand mixer) until smooth, then add cocoa and baking powder and mix more. Add the flour until combined, then the melted butter and mix well. It will be thick. Then bake in a pizzelle iron according to the instructions.
Traditional Italian Pizzelle
Ingredients:
3 eggs
1 ½ cups flour
½ teaspoon salt
3 tablespoons sugar
2 tsp baking powder
½ tsp cinnamon
½ tsp anise extract
½ tsp vanilla extract
Zest of one lemon
3 tablespoons of extra virgin olive oil
Instructions:
Mix together the first eight ingredients then add the oil slowly. The mixture will be quite thick. Let rest for 30 minutes, then bake in a pizzelle maker according to the directions.
13. Snickerdoodles from Barbara Ankrum
Maybe it's the soft, chewy texture, or the fact that Snickerdoodles are rolled in cinnamon sugar! Who doesn't love cinnamon? These cookies are now a favorite of my grandkids, too and so easy and fun to make. They can get in the game, with the mixing, then rolling the little balls that become the cookies and spinning them in the sugar mixture. It's a no-fail with kids or grandkids! The secret to keeping these cookies soft, chewy with a classic tang is the Cream of Tartar. It gives the cookie its soft texture and also a little tang that offsets all the sweetness. Here's the simple recipe we use.
Ingredients:
2 eggs
1 C softened butter
2 ¾ cups of all-purpose flour
2 tsp cream of tartar
1 tsp. baking soda
¼ tsp. salt
Coating:
2 Tbsp. white sugar
2 tsp. ground cinnamon
Directions:
Preheat oven to 400 degrees F. Line a baking sheet with parchment paper or lightly grease.
Beat 1 1/2 cups white sugar, butter, and eggs together in a bowl using an electric mixer until smooth and creamy. Combine flour, cream of tartar, baking soda, and salt in a separate bowl; stir into creamed butter mixture until dough holds together.
Chill in Fridge for 30 minutes to make the dough easier to handle.
Form dough into 2-teaspoon-size balls and roll in the cinnamon-sugar mixture. Place dough balls, about 2 inches apart, on the prepared baking sheet.
Bake in the preheated oven on the center rack for 7 minutes. Allow cookies to cool on the baking sheet for 5 minutes before transferring to a wire rack. (The cookies will continue to cook on the sheet for this time, so don't skimp here.)
Another tip: To store, put in a plastic bag along with a piece of bread to keep these cookies nice and chewy.
14. Frances Fruit Cookies from Jeannie Watt
My recipe is from my Great-Great-Aunt Frances, who was born in Sweden in the late 1800s. Her fruit cookie recipe has been handed down through the family and I have a hand-written copy from the 1960s.
My mom is the official Frances cookie maker, and every year she makes them and mails them to the special people in her life. They are, hands down, my husband's favorite cookie, but he only gets them at Christmas. They might look a little boring, but don't judge this cookie by its cover.
Unfortunately, there is no amount given for the fruit, so we just eyeball it, making certain that there's enough cookie dough to actually make a cookie.
Ingredients:
1 1/2 cups sugar
1 cup butter
3 eggs
3 1/4 cups flour
1 teaspoon soda in 1 tablespoon boiling water
Candied fruit – the kind that's used in fruit cakes, chopped fine. I'm guessing about 1 cup
Maraschino cherries
1 cup of chopped nuts (optional)
Chopped dates (optional)
Directions:
Preheat oven to 350. Cream the butter and sugar. Add eggs and then stir the soda water. Add the flour a little at a time as you mix. Add in the fruit, nuts and dates to your taste without overloading. Chill for two days to allow the fruit to soften. Drop in spoonfuls onto a greased baking sheet. Top each cookie with half a. Bake 12-15 minutes.
15. Red Velvet Peanut Butter Blossoms from Leah Vale
I'm so excited to share with you a favorite recipe of mine, Red Velvet Peanut Butter Blossoms. It is a tweaked version of my mom's tried and true Peanut Butter Blossoms, all festive and sparkly for the holidays.
What you'll need:
-1/2 cup (1 stick) butter, room temperature
-3/4 cup creamy peanut butter
-1 1/3 cup granulated sugar
-1 egg
-2 tbsp. milk
-2 tsp. vanilla
-1 (or more, I used more to get the color I like) tsp. red food coloring
-3 tbsp. unsweetened cocoa
-1 1/2 cups all purpose flour
-1 tsp. baking soda
-pinch salt
-1/4 cup (or more depending on how big/many cookie balls you make) red sanding sugar
-1 bag Hershey's Kisses (unwrapped)
Here's what you do:
-Heat oven to 375 degrees F.
-Beat butter, peanut butter, and sugar until blended, then add egg, milk, vanilla, and red food coloring. Mix until light and fluffy.
-In a separate bowl sift together cocoa, flour, baking soda and salt, then slowly combine with sugar mixture until blended.
-shape dough into 1 inch balls, roll in sanding sugar, and set on parchment lined baking sheet about two inches apart.
-bake for 8-10 minutes
-remove from oven and immediately press an unwrapped Kiss into the center of each cookie.
-allow cookie to cool at room temperature.
Then enjoy!
16. Holiday Spritz Cookies from Nan Reinhardt
(Click to see bigger image)
My recipe is for Poppy and Grandboy's Spritz Cookies. They are so yummy! Here's the recipe and a box of cookies from this year's baking extravaganza.
17. Chocolate Crinkles from Tracy K. Solheim
Everyone who knows me, knows I love chocolate. And chocolate cookies? Oh, baby! I bake multiple varieties of cookies each Christmas, but these are at the top of everyone in my family's favorites. I usually end up making a second batch to send with my kids when they head back to their homes. If you try them, let me know how you like them.
Ingredients:
½ C vegetable oil
4 oz unsweetened chocolate melted
2 C sugar
4 eggs
2 t vanilla
2 C flour
2 t baking powder (NOT soda!)
½ t salt
Confectioners' sugar
Directions:
Mix oil, chocolate, and sugar. Blend well. Add in one egg at a time until well mixed. Add vanilla. Measure flour and combine with salt and baking powder. Add to the oil mixture and combine thoroughly. Chill several hours or overnight. Drop tsp of dough into confectioners' sugar. Roll to coat and shape into a ball. Place on lined cookie sheet. Bake at 10-12 mins in 350-degree oven. Enjoy!!
18. Xmas Bars (Cherry-Coconut Bars) from Kelly Cain
I've always loved to bake, even as a little girl, and certainly grew up surrounded by loads of desserts. Interestingly enough, there was no cookie making – all pies and cakes, but plenty of them. When my younger daughter was a baby, we moved to Los Angeles and her babysitter was such a wonderful lady. She shared her Xmas Bar recipe with me and it quickly became tradition with our family. Seriously, Christmas isn't kicked off until I make these bars. Not only for family and friends, but even coworkers. My friend in Mississippi even had me overnight her some a couple years ago. Hopefully, you'll love them as much as my folks. We've always called them Xmas Bars, but I see from the original, they're actually called Cherry-Coconut Bars.
Ingredients:
For the pastry:
1 cup flour
3 tablespoons powdered sugar
½ cup butter
For the filling:
2 eggs, slightly beaten
1 cup granulated sugar
¼ cup four
½ teaspoon baking powder
¼ teaspoon salt
1 teaspoon vanilla
¾ cup chopped pecans
½ cup shredded coconut
½ cup quartered maraschino cherries
Directions:
Preheat oven to 350º F.
Combine pastry ingredients with hands until smooth, and spread with fingers in an ungreased square pan, 8x8x2. Bake about 25 minutes.
Stir filling ingredients together and spread over baked pastry. No need to cool. Bake about 25 minutes. Cool, and cut into bars.
19. Candy Cane Cookies from Kelsey McKnight
(Click to see bigger image)
My contribution for the cookie party are my candy cane sugar cookies! They're simple, easy to adjust to other tastes, and always a hit at parties. So if you need a last minute cookie, these will look like you were in the kitchen all day without you actually having to stick by the oven.
20. Frosted Chocolate Drop Cookies from Anne McAllister
(Click to see bigger image)
21. Recipes from some Outback Brides authors!
Brandy Snap Cookies from Kelly Hunter
What you'll need:
Brandy snaps (store bought or make your own)
Double cream and/or marscapone
Seasonal fruit
A helper
Do they keep? No. Do you get messy? Yes. Can kids help? Sure, but toppings will go missing. If it's a hot day, keep them in the fridge before eating. Napkins essential!
White Chocolate Decadence from Cathryn Hein
Begin this recipe one day ahead. The undecorated cake will keep for three or four days in the fridge, so you can make it well in advance. I don't recommend freezing. I tried it once and it seemed to abnormally affect the texture.
Use full fat everything. This creamy cheesecake is meant to be indulgent!
All measurements Australian.
Ingredients:
450g cream cheese, at room temperature
¼ cup (60ml) caster sugar
3 teaspoons (15ml) cornflour
3 eggs
1 teaspoon (5ml) vanilla bean paste (or vanilla extract)
3 teaspoons (15ml) finely grated lemon zest
2 cups (500ml) sour cream
1 cup (250ml) thickened cream
250g good quality white chocolate, melted then cooled to lukewarm. I use Lindt.
Fresh seasonal fruit and fruit puree to serve. Or whatever you like!
Directions:
Preheat the oven to 180ºC (350F). Grease a 20cm (8 inch) loose bottomed cake pan (I've also used a 23cm tin with no ill-effects, so this is flexible) and line base and sides with baking paper. Wrap the outside of the tin tightly in a several layers of foil. It's very important to make sure that it's well sealed or water will leak into the tin during cooking and spoil the cake.
Whiz cheese and sugar in a mixmaster or with beaters until smooth. With the motor running, add cornflour, then eggs one at a time, making sure they're well combined into the mix. Add vanilla, zest and creams, and ¼ teaspoon salt, and beat until just mixed. Add chocolate and beat some more until smooth. Pour mixture into the lined tin, then sit the tin on a teatowel in a large roasting dish (the teatowel prevents the tin slipping around). Pour boiling water into the dish until it comes halfway up the sides of the cake tin.
Bake for 45 minutes, then leave the cake in the switched-off oven with the door closed for one hour. Lift tin from roasting dish, remove foil and cool cake completely on a rack (leaving it in its tin). Cover and chill overnight.
Turn out onto a plate or cake stand. Remove baking paper, top with fruit then drizzle with fruit puree. Slice using a hot, dry knife.
22. Biscotti from Sinclair Jayne
I know Kathy Garbera rocked it with a biscotti recipe earlier in the month, but there is so much to love (and not just that it's hard to mess up). I love that it's a dunking cookie. Seriously dunking cookie—coffee, hot chocolate, milk, mulled wine….It's crunchy and with the basic ingredients you can PLAY around. Go with nuts and chocolate or citrus zest or savory, or dried fruit. You can play around so many ways—a bit like writing.
Some of my favorites are lemon with lavender or anise, cinnamon, and grand marnier soaked almond slivers or cardamom and fennel or rosemary or chocolate and black walnuts and then dipped after baked and cools into melted white chocolate (spiked if you dare).
Ingredients:
2.5 cups of flour
1 tsp baking powder
1/2 tsp baking soda
1/2 tsp cinn
1/2 tsp sea salt
Whisk
4 eggs
3/4 cups granulated sugar
1/2 cup brown
1 tsp your choice of extract
Directions:
Combine into a dough
Divide in half
Create two equal flat loaves
Bake on a silpat or parchment paper at 350 for 15 minutes until golden
Cool, cut at an angle with a serrated bread knife into 1/2 inch thick cookies, lay flat and bake another ten minutes.
23. Cinnamon Crescent Cookies from C.J. Carmichael
(Click for bigger image)
Today I'm sharing a recipe for Cinnamon Crescent cookies that I got from a recipe magazine about 20 years ago.
24. Great Aunt India's Hermit Cookies from Jane Porter
(Click for bigger image)
Today I'm going to be making a very old family recipe, which we call Great Aunt India's Hermit Cookies. It's not the most festive cookie but it's spicy and chewy and yummy, and a recipe that dates back 100 years on the Porter side.
While they look under baked, they are perfect when they cool as they'll be chewy versus crunchy.
And here's a bonus family recipe!
(Click for bigger image)